The u:card for employees
The u:card works both as an employee ID card and as a library card. Employees who are currently employed with the University of Vienna can order their u:card via u:space. Employees with independent service contracts or contracts for work and services are not eligible for a u:card.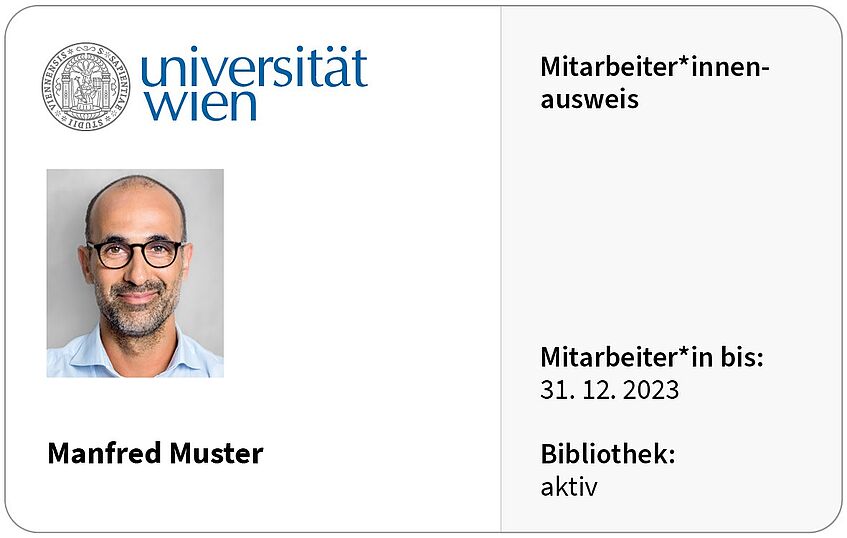 Ordering the u:card
To log in to u:space, you require a u:account. If you do not have a u:account yet, you can apply for a u:account via the ZID website.
Log in to u:space. Please upload your passport photo.
To be able to use the library, please agree to the use regulations of the University Library as well as to the privacy policy. You can also agree to these documents at a later point. You can find them on u:space under "Status and validity".
Delivery
The u:card will be delivered by post to the address you provided in the order (this only applies to EU/EEA countries).
You can enter your work address as well as any other delivery address. This address will only be used to deliver the u:card. The information you provided will be deleted as soon as the u:card has been delivered.
Validity
The u:card becomes valid as soon as you have validated it at one of the u:card terminals. The validation terminal will print your personal details on a special field using thermoprinting technology. Every time the u:card is validated, the old details in this field are automatically overwritten with the new details.
Location of the u:card terminals*
*This link takes you to Google Maps. By clicking on the link, personal data is sent to Google and can be used by Google.
Do you have any further questions about the u:card? Click here for our Frequently Asked Questions.